The Maya Somaiya School of Music and Performing Arts, one of the premier music schools in Mumbai, is glad to announce the schedule for its upcoming hobby classes is as under
Mukt Sangeet Manch is an activity of Somaiya Music Circle to give platform to freely explore and express your talent in music, be it vocal or instrumental, classical, or semi-classical, cine-bhajan-sufi-ghazal, Tabla or Harmonium. Also, you may just come and listen to various performances being presented and get inspired. Our faculty will guide if you wish to develop your music skills.
Guidelines and Rules
Although this is an open and free "Sangeet Manch", planning of events is necessary to ensure minimum quality of performance and an opportunity to all.
All who wish to perform must submit the following information: Name and address, Performance details: Vocal - Genre: Classical/Semi-Classical, Light, Devotional, etc. Instrumental – Name of the Instrument.
Time needed for presentation.
A brief bio-profile and a recording will have to be submitted at least 10 days in advance by email to : - meeta.pandit@somaiya.edu rahul.prakash@somiaya.edu
Decision of the Controlling Committee will be final.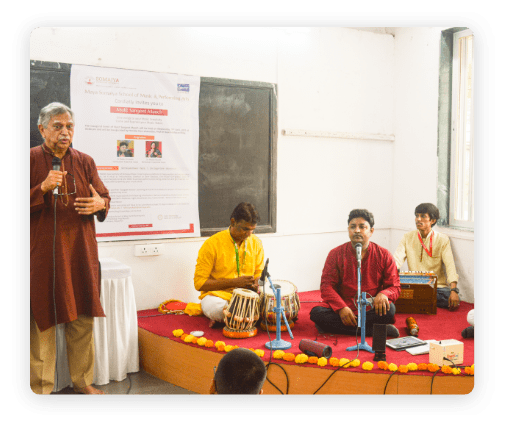 Participants/Audience:
All
Time:
Every Wednesday at 3:00 pm to 4:00 pm.
Venue:
Maya Somaiya School of Music & Performing Arts. Opp. S. K. Somaiya Vinay Mandir, SVU Campus, Vidyavihar.